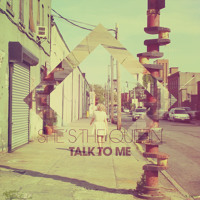 As we
reported earlier
, one of our favourite blog colleagues,
Electronic Rumors
, has branched out by adding a record label to the job description. Now it's time for their second release in the form of New York electropop duo
She's the Queen
. The band consist of Drew Kuryloski and Emily White, and they make soulful dance-pop marinated in nu disco and dreamwave. Judging by their name, I'm guessing Drew is the one carrying all those heavy analogue synths to their gigs.
"Talk to Me" is a power-synth smoker in the mould of Diamond Cut or Fear of Tigers. Remix support comes from Lightwaves, Digitalfoxglove, Silenx, Embryonik, Jeremy Grasso and
ODahl
. It's good to see that ODahl is in good form, so we're proud to première his remix here.