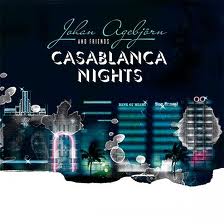 The new single off
Johan Agebjörn
's album "Casablanca Nights" (of which he spoke of in our
recent interview
with him) will be released on May 31. It's called "The Last Day Of Summer" and is a collaboration between Agebjörn,
Queen of Hearts
and Finnish producer
Ercola
. The single will include remixes by Le Prix, Dreamtrak, Ercola and last but not least, it will mark the return of our old heroes Le Matos. We can hardly wait!
The wait is somewhat eased by the release of the official video of the single. Well, it's not really officially released since it's still unlisted on Youtube, so this is effectively a première. We like to make our readers feel special like that...
Here's the soundcloud stream (for the blog aggregators).
Johan Agebjörn & Ercola feat. Queen Of Hearts - The Last Day Of Summer
by
Johan Agebjörn